Strike Casino by Big Daddy is India's most opulent land based casino, offering you a special gaming experience. Try your luck at the pit-stop, which is centrally located at Grand Hyatt, Goa, and provides a variety of fun games and foot-tapping entertainment.
Casino Strike is one of only a handful of landbased casinos in Goa. As you may know, most casino licenses are reserved for cruises. The successf of Casino Strike may just open the door for more landbased casino rooms in Goa. 
STRIKE CASINO GOA
Strike Casino Goa is located at Bambolim, Goa. It made its glamorous opening in July 2016, so it's safe to say it fairly is new.
The best part is that they have much more apart from their exclusive gaming floors. They also have bars and a restaurant, V.I.P lounge, an every night DJ with Sufi and Soul music, international dancers and hostess that will make the whole experience feel like you are in Las Vegas! In other words, at Strike Casino Goa you can east, play and indulge for as long as you want!
Strike offers a variety of games to play:  Miniflush, Roulette, Teen Patti, Andar Bahar, Bacarrat, Poker and Blackjack.
STRIKE CASINO GOA ENTRY FEE
There is a direct Strike Casino Goa Entry Fee, but you can also get packages, which you will need to book in advance. Casino players can choose between three different types of packages, each one slightly more expensive. The first deal is a Regular Package for INR2000, including all standard features such as a snack or in-house DJ. The second deal is a Premium Package, which will allow you to enjoy 3000OTPC and Premium Brand Liquor for INR3000. This package is also the most sold. And then, last but not least, for those willing to have a little more privacy, there is the VIP Package for INR5000, with access to VIP Lounge and imported brand liquor, amongst others. We will explain these packages further down.
As for the entry fee, Strike Casino will charge you at the door 2000INR, which includes snacks, drinks, and chips. This type of entry fee is pretty standard for all land-based casinos in Goa.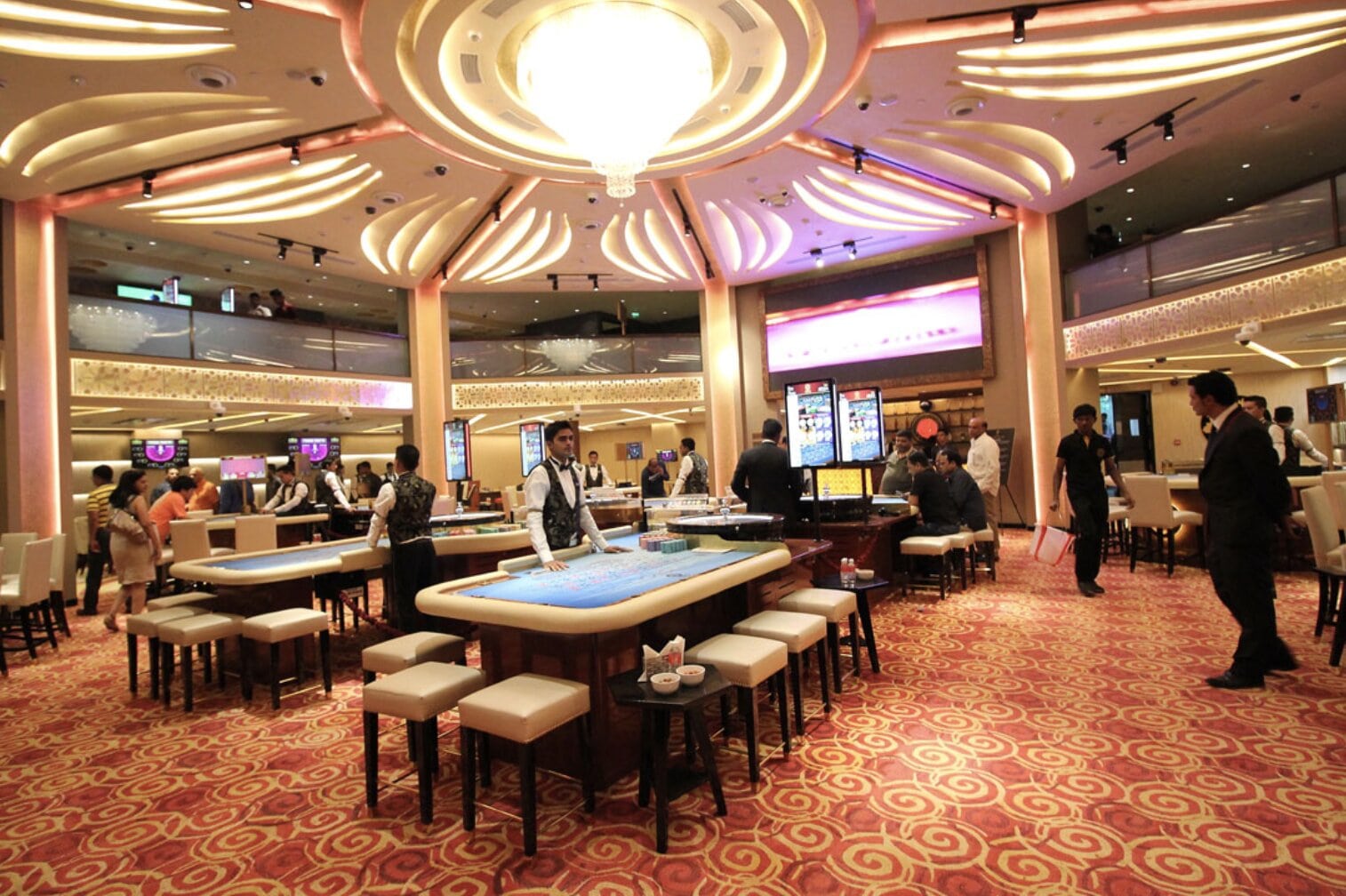 The casino is open 24 hours and your government photo-ID is required for entry. The minimum age is 21 to play the games floor and the dress code is smart casual with respectable footwear. Having said this, the right to admission is reserved by management and its decision is final.
STRIKE CASINO GRAND HYATT
Strike Casino Grand Hyatt has a privileged location, situated on Grand Hyatt, Bambolim, Goa.  Casino player queries can be made by telephone: 7030946871 / 7767888803 or email: enquiry@bigdaddystrike.com. 
They have excellent customer support. You can phone or email them at any time or day and their staff on the actual casino is nice and friendly.
The staff will happily explain to you any of their casino games, regardless of it being your first time at the casino or a regular customer. Casinos players will be able to enjoy a wide range of offline games; Roulette, Baccarat, Blackjack, Indian Flush, Casino Wars, Andar Bahar, and Slots.
CASINO STRIKE PACKAGES
Which Casino Strike packages should you choose? We'll explain all of them here.
The first one is the Regular Package; 2000INR with 2000OTPC. It includes a multi-cuisine veg/non-veg buffet dinner, snacks, live chat counter, Bollywood / international dance performances, in-house DJ, house brand liquor, and taxes.
The Premium Package only changes the type of liquor, which is a premium brand liquor. IT costs 3000INR with 3000 OTPC. The VIP Package, on the other hand, offers imported brand liquor and access to VIP lounge for 5000INR with 5000OTCP.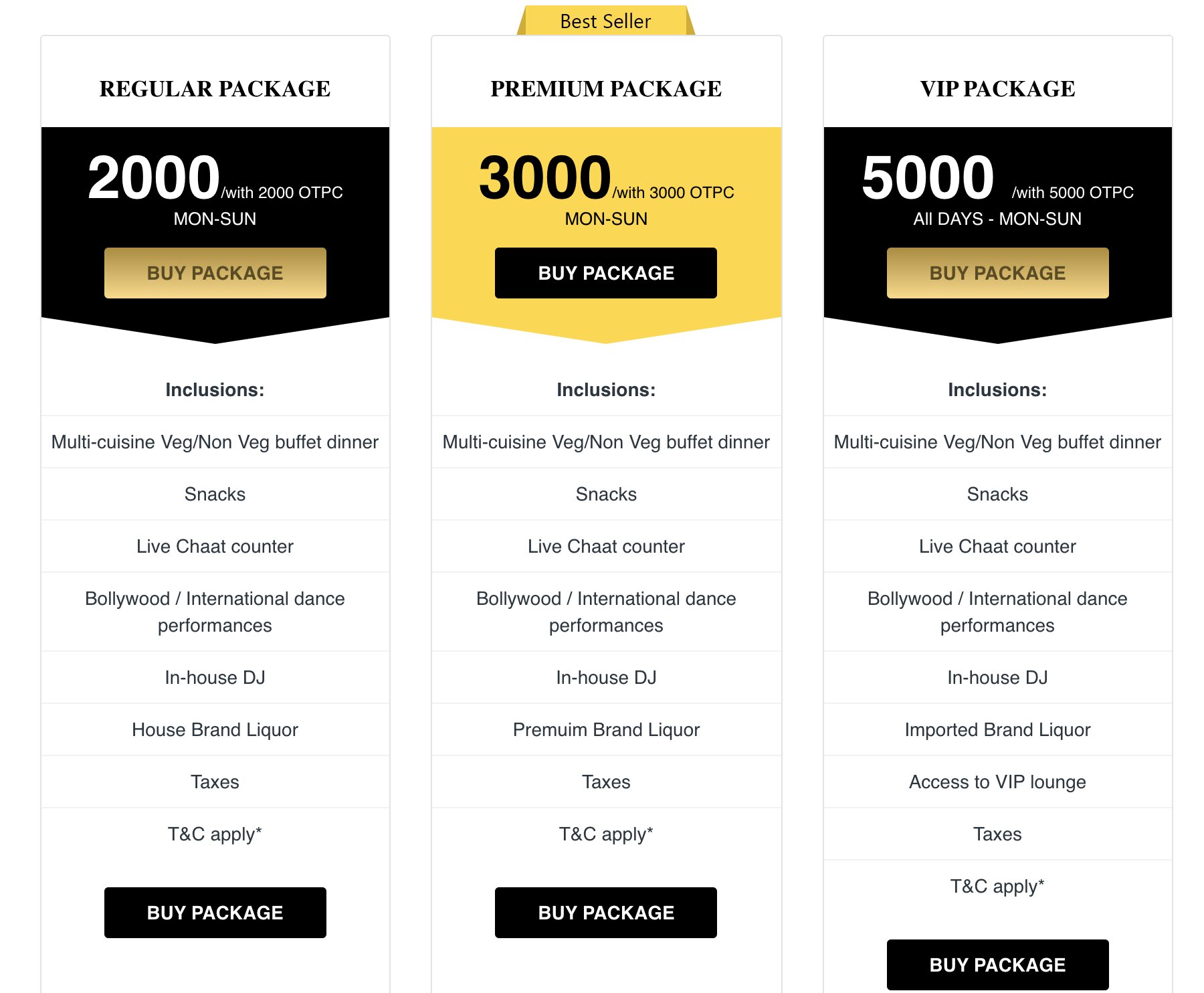 All these packages are available Monday to Sunday. The minimum age to get into the game floor is 21 and the dress code is smart casual with respectable footwear.
CASINO STRIKE PHOTOS