All you need to know before visiting Casino Pride is this remarkable place is one of the most desirable establishments of this kind in Goa and probably the rest of the world.
The main advantage is the fact this casino is located on a huge cruise ship. It has two main sections, the original and first Casino Pride 1 and a newer version Casino Pride 2.
Visitors can purchase one ticket and visit both casinos, play games and so much more. We can add that there are unlimited amounts of foods and beverages, Indian and international games and obviously accommodation. There are still a lot of things to know about this establishment and all of them wait for you below.
The Casino Pride Goa is located on Mondovi River in Panjim.  This is also the capital city of Goa and one of the most beautiful places in the whole of Asia. The casino is owned by Casino Pride Group who have been offering this kind of services for a long period of time. They got numerous rewards and are known as one of the largest casino-related groups in the world.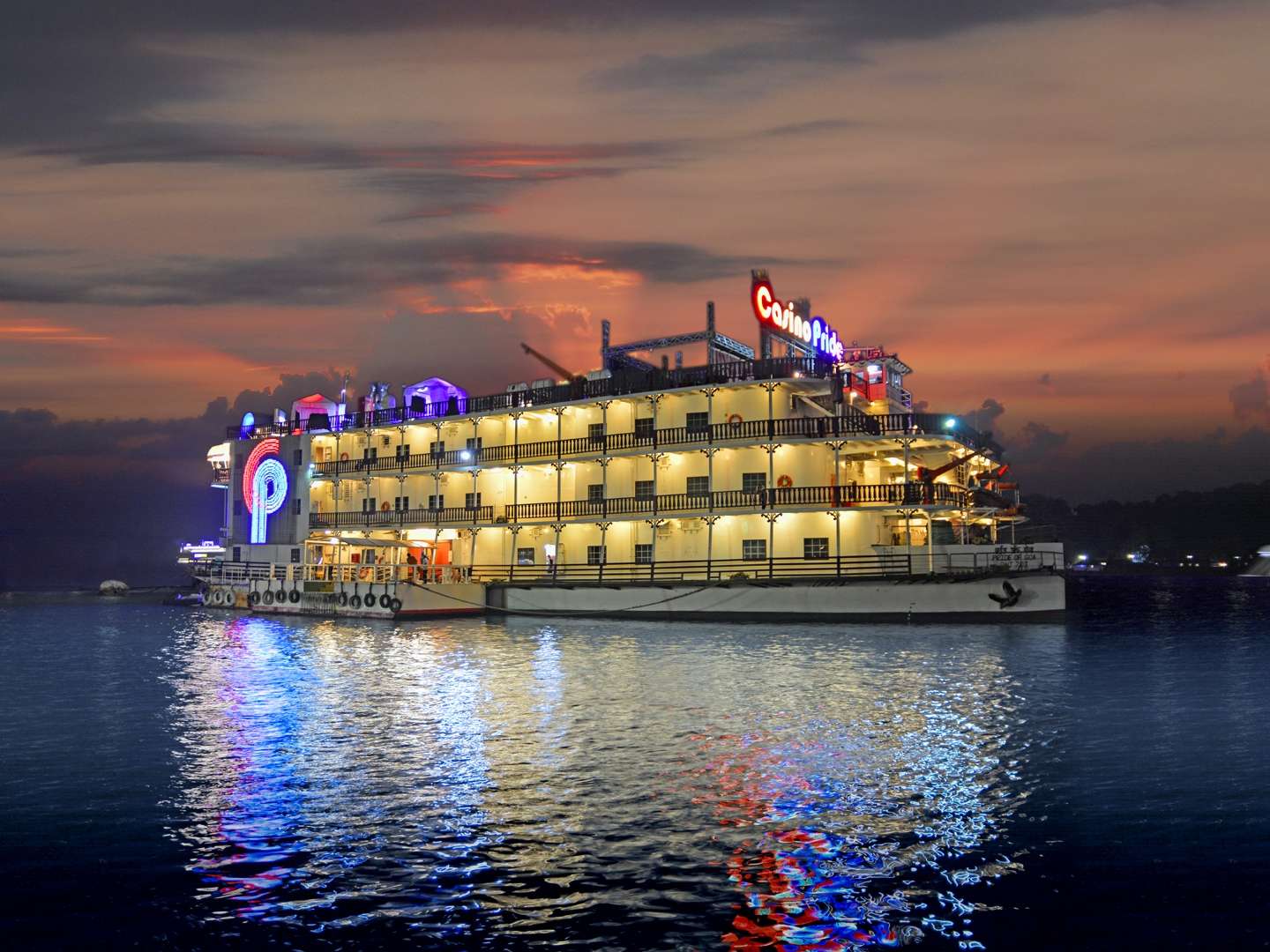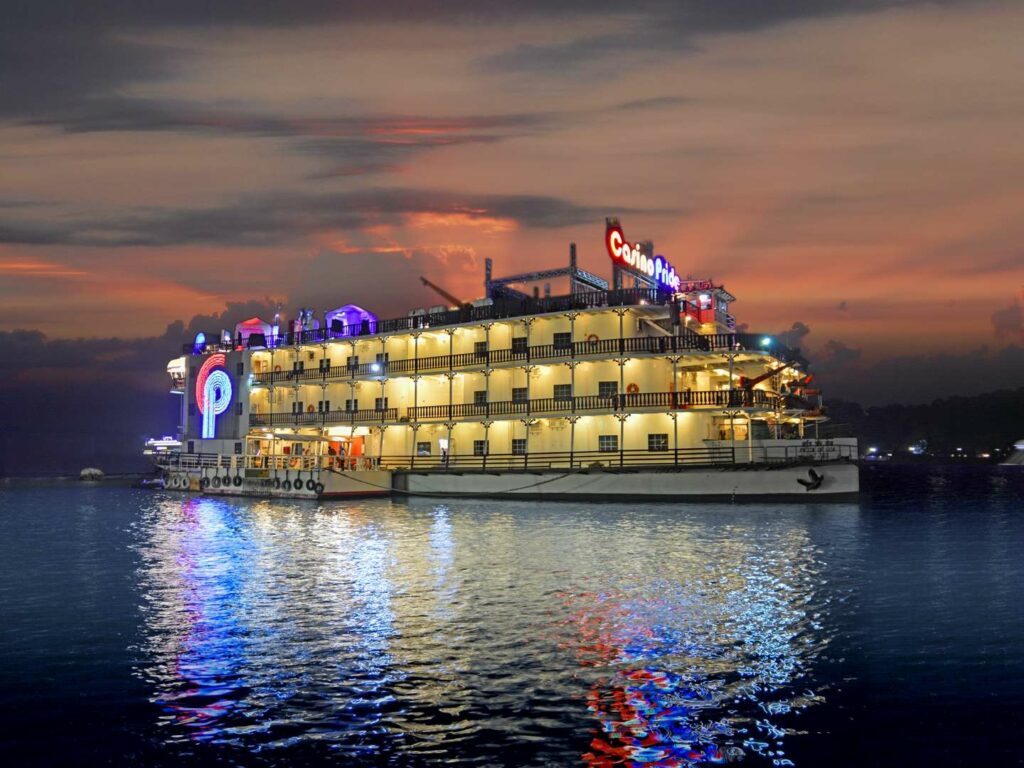 Casino pride consists of two separate casinos, 1 and 2. You can visit both of them and play the games you like. The best thing is the fact the casino is open 24 hours a day, 7 days a week.
Casino Pride Goa entry fee
As some of you may expect, there is a Casino Pride Goa entry fee. This is common for all casinos in Goa. For comparison, Casino Palms and Casino Paradise require INR 1.000 as an entry fee. However, this fee is basically an entry ticket and nothing more. Casino Pride is slightly different in this case scenario.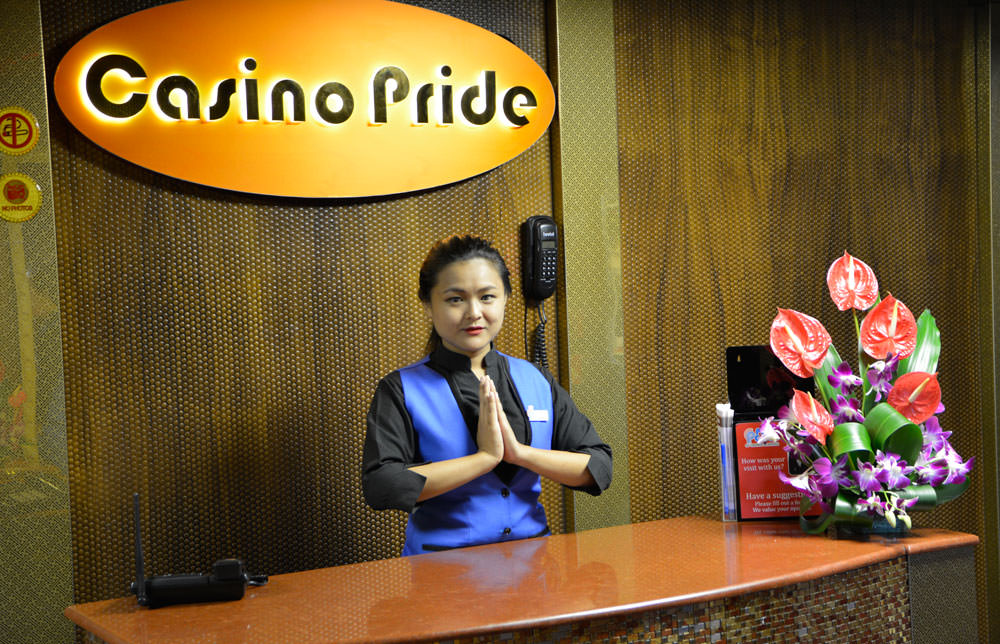 Casino Pride has different entry fees according to the day of a week. For example, entry fee between Monday and Thursday is INR 1500. But, you get INR 500 one time coupon to use on the games. The entry fee between Friday and Sunday is INR 2000 and it also includes INR 500 one time coupon.
All coupons give you additional perks. You get unlimited food and drinks from a buffet and you get live entertainments between 9 pm and 11 pm. There is a kids zone included as well.
Casino pride owner
Casino Pride owner is the Casino Pride group. The group currently has 5 casinos in Goa and each one is more than just popular. Their casinos are considered as some of the best which is the main reason why they have aplenty rewards in their collection.
Casino Pride Group owns and operates several casinos such as Casino Pride 1 and 2, Casino Palms and Casino Paradise. The Casino Pride is responsible for obtaining Indian Travel Awards for being the best casino in the country! We can only add that in the near future many more awards will be accredited to this massive owner.
Casino Pride dress code
In Casino Pride, you can enjoy all the perks with casual dressing, thanks to a relaxed Casino Pride dress code. Almost everything is allowed except sleeveless T-Shirts and shorts and flip floss. T-Shirts with long sleeves and conventional pants are allowed. The same applies to shoes, sneakers, and boots.
Casino Pride Packages
Casino Pride packages come in 3 variations. All of them are designed for 2-3 people and valid for 2 days. The first one is the silver package. This package costs you INR 19000 and offers you accommodation in Hotel La Capitol or Park Prime.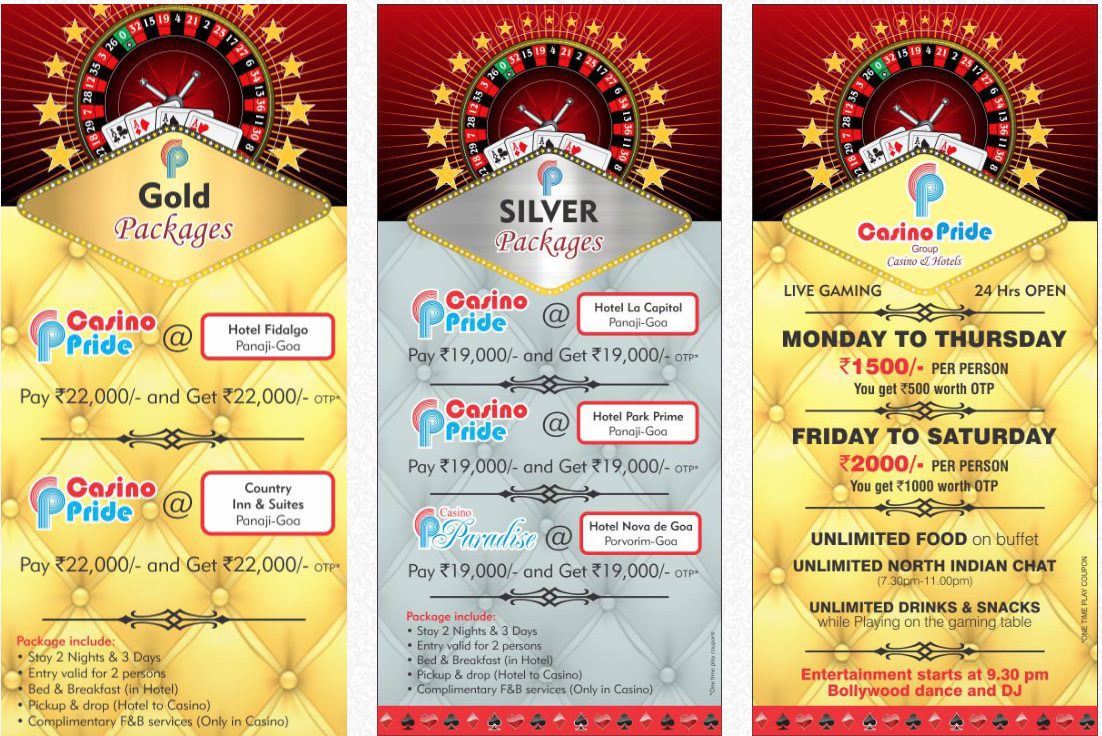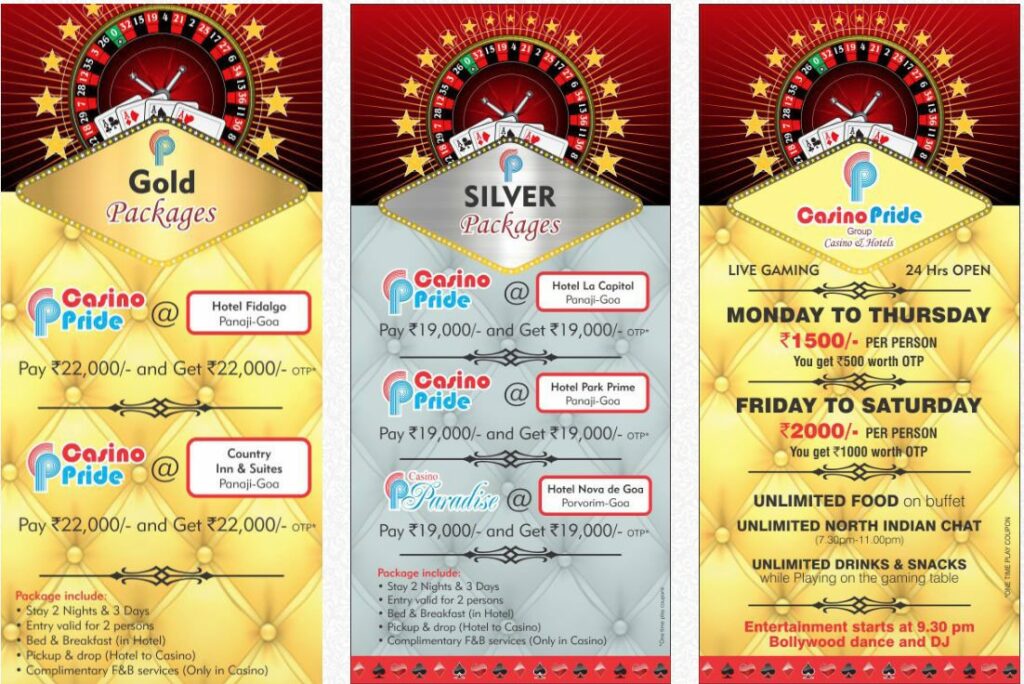 The second package is the gold one and it will cost you INR 22.000. This package also allows you accommodation at Hotel Fidalgo or country inn and suites. Platinum is the last package which cost between INR 30.000 and 32.000. You get accommodation at hotels La Calypso or Neo Majestic.
Casino Pride Games
As you would expect Casino Pride games offer plenty of entertainment. However, they are divided between international and Indian games. The complete list of games awaits you below.
International games are:
Roulette
Blackjack
Poker: Texas Hold'em
Casino War
Baccarat
3 and 5 card pokers
Mini Flush
Wheel of fortune
Plenty slot machines
Tai Sai
Indian games are:
Teen Patti
 Mang Patta
 Paplu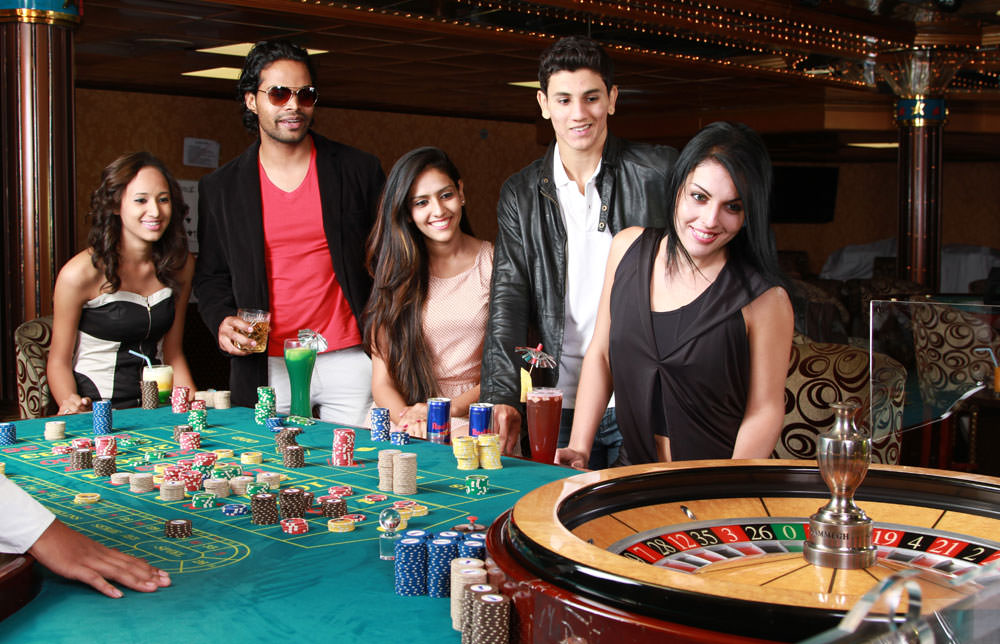 All the games are known for professional design, they offer above the average odds and they are available through the week for all of you. Keep in mind that the games are available in both Casino Pride casinos (1 and 2). Dealers are professional and they will help you have an even better time playing. We can also add that the games are available through the year and always ready to accept your bet. Pick a game that is suitable for you and your playing style and you are ready to start. You will definitely have a lot of fun. If you are from Europe, the United States or other countries except for India, we recommend you try the Indian games. They are not something you can play anywhere else except here and you will see why after the first bet.
Casino Pride Hotel Goa
Casino Pride Hotel Goa offers excellent accommodation, to complement its great casino. The first one is Neo Majestic. It offers 72 king-size beds, has 5 stars and it is paired with an amazing 5000 square feet casino. The hotel also allows its visitors to enjoy gym, sauna, spa and various other treats as you would expect from a 5-star establishment. The place has been known for its beauty, professional personal and countless many benefits and advantages. It is something you will need to see in order to understand. Don't forget that there are 3 restaurants present as well. They can prepare any meal for you within minutes.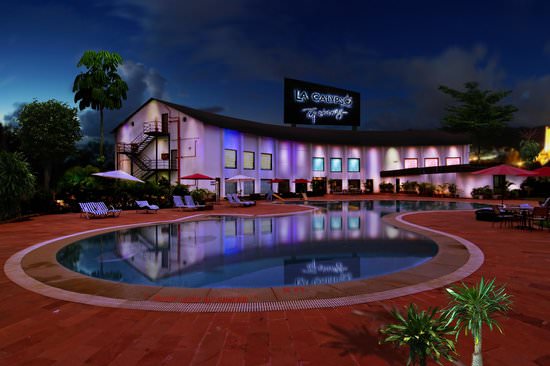 The second hotel which is commonly linked to Casino Pride is the La Calypso. It is located on the shore close to the actual casino and it features shafts that are stunning. The place is known as an oasis and has been visited by travellers from all over the globe in recent years. It is another casino we like and wish to recommend staying here.
Casino Pride Goa Photos