When we began to review Rizk, the first thing that caught our eye was a new section – Sports. We know how big sports betting is across the world, and so we're happy to see Rizk get into that space. But we are getting ahead of ourselves here. During our detailed review, we found so many other things that we would love to tell you about. Their website promised us an innovative, smooth, fair, and immersive gaming experience. And we are about to tell you whether that claim was true. For starters, we were keen to understand the variety of game offerings they had. The bonuses on offer were important too. Finally, security and convenience was another area we looked at. Let's see how Rizk fared.
With its vast population, India has always been the focus of attention of companies all over the world. As far as the world of online casinos goes, the demographics of India's population make it even more attractive. With so many youngsters who have access to at least one device, it was but natural for Rizk to pay special attention to India. The first thing that a player from India would notice is that the Indian rupee is an acceptable currency Rizk. This would take the currency fluctuations out of the equation straight away. The website mentions a host of countries where it is available. We could spot Finland, United Kingdom, Norway, Canada, New Zealand, and Germany. But we were even happier to see India marked as one of those countries.
Let us take a step back from India, though, and see what Rizk has in store for all players from all countries. Let us start with something unique to Rizk. They have what they call the Wheel of Rizk, something new that we couldn't find in any other online casino. As you keep on playing at Rizk, you get to level up. And every time you do, it gives you a chance to spin the Wheel of Rizk. The prizes up for grabs there are free spins, jackpots, and even real money. Overall, there is a lot of money or equivalent out there, just waiting to be won. Next, we come to security. Rizk has a Withdrawal Lock feature that secures all your winnings and keeps them safe. They have a smart team of customer care executives who call themselves Rizkateers. They are available 24×7 to answer any queries you might have. Coming to the games, you have a rich variety to choose. You can play the classic slots, high volatility slots, jackpot games, megaways, respins, and so many more categories. Then, of course, there is the all-new Sports section which we will come to next.
This new section focuses solely on sports betting. Cricket seems to be the biggest draw here as of now. Many of the well-known cricket tournaments like Big Bash League are featured. Some bilateral series and multi-team tournaments are also available. Additionally, you can bet on badminton, football, and lawn tennis. Given the fact that this is a new section, we were pleasantly surprised to see a large number of options already up there. We are sure this is the section that will see the most action this year, and we simply can't wait.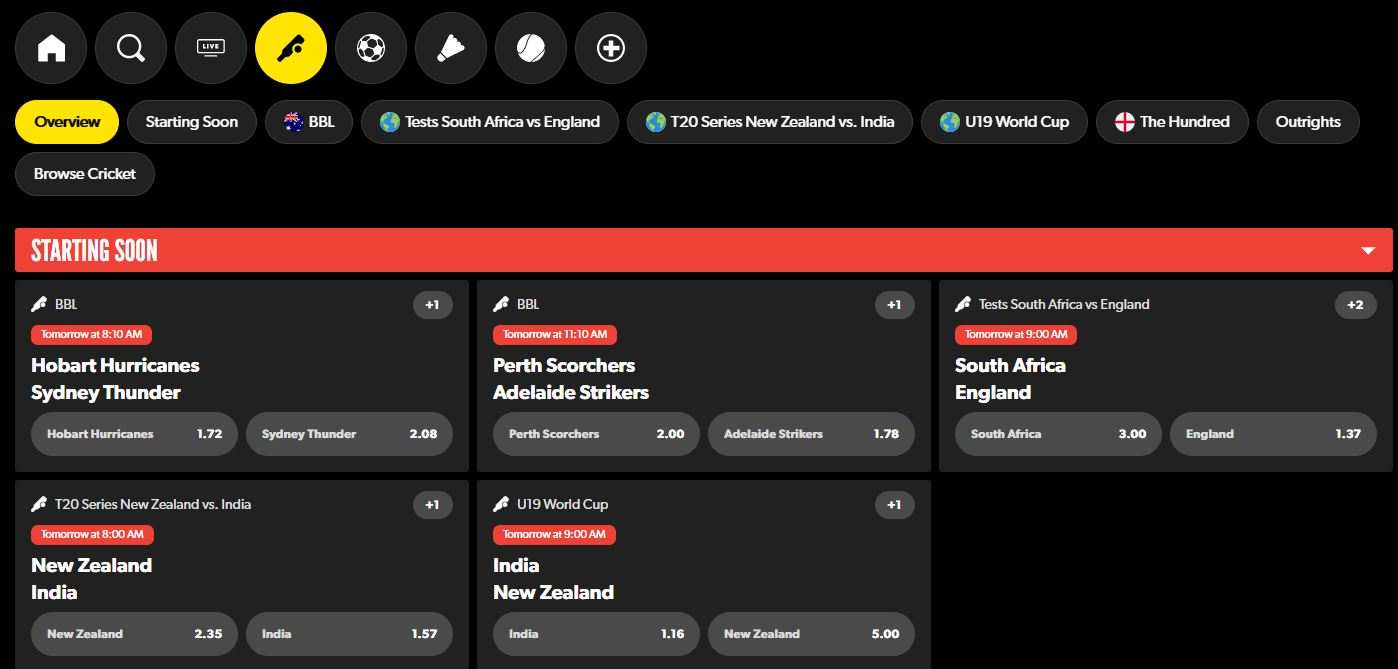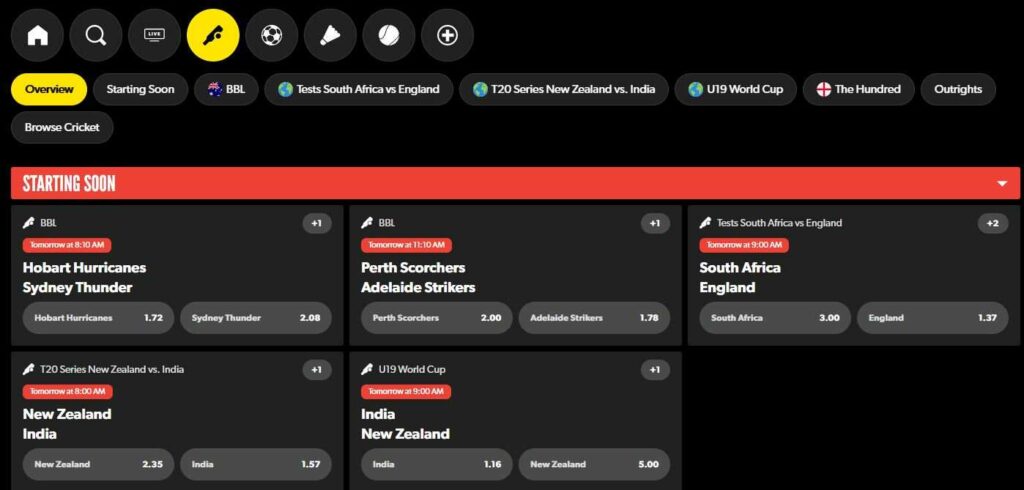 Let us now go back to one of the older sections in Rizk. And dare we say, one of the most popular. We all visualize live betting tables when we think of casinos. The Rizk Live Casino section allows to enjoy that ambiance without having to go to an actual casino. You get to play with live dealers and actual competitors, instead of facing off one on one against a slot machine. The most obvious options for you are the Lightning Baccarat, Monopoly Live, Lightning Roulette, or the Rizk Blackjack. But this is not all. You can opt for special high stakes games on the live casino where the big boys come to play. Then there are some special variants of known games which might pique your interest. Some of them are Speed Baccarat, Auto Roulette, Free Bet Blackjack, Immersive Roulette, and Lightning Dice, just to name a few.
Every game you play does give you ample opportunities to win free rounds or real money. But Rizk also sweetens the deal with their attractive hamper of additional bonus and promotional offerings. As soon as you sign up, for example, you are given a nice welcome offer. You get up to INR 25000 to play on the live casino tables.
Additionally, there is a Captain Rizk welcome bonus of INR 10000 (@ 100%) along with 50 free spins. The 100% here means that your deposit amount will be doubled. You can deposit a minimum of INR 500, in which case you play with INR 1000 and 50 free spins. The maximum deposit allowed is INR 10000, in which case you play with INR 20000 and 50 free spins. The free spins would be made available in tranches over the next five days. Additionally, there are several promotional offers for specific sections of Rizk. Some examples are double speed on Skulls Up, daily drops and wins, happy hour cash drops, and even tournaments with other players. There is more, for which you need to go check out the website while we move on to the other sections of this review.
From force of habit, our reviewers searched for Rizk at both Google Play Store and elsewhere for a Rizk mobile app. But the search proved futile. They were a tad disappointed and had to use their desktops to complete this review. But then they realized that the configuration of the website was actually pretty good and they had no problems whatsoever. Their only recommendation was that a player uses a robust internet connection.
There are two aspects of online casinos regarding their legal status. One is the country of origin of the promoters of the casino, and the other is the country of origin of the player. Because of the laws currently in force in India, no company can introduce legal betting in India. On that count, Rizk is safe because it is registered (and duly licensed) in Malta. Regarding the country of origin of the player, Rizk does not debar Indian citizens from playing on their website. So on both counts, Indian citizens can easily play on Rizk without the fear of breaking any law.
Unadulterated entertainment and good returns are two things we always prefer to see in any online casino we review. On both counts, Rizk came up trumps. Additionally, we liked the security, choice of currency, additional exciting features, just to name a few. We also liked the fact that sports betting was also given a seat at the high table.
We have listed several things about Rizk above which delighted us. Maybe the number of games in each category could have been increased. But we say that only for old-timers who would be familiar with lots of games. For newbies or even regular players, Rizk in its current avatar seems good enough. It will guarantee hours of safe and clean fun and several opportunities to win big money. What more could one want?